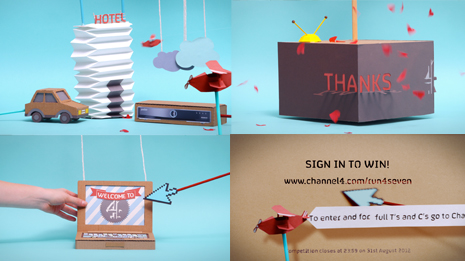 Channel 4 commissioned Fred & Eric to make a 20 second competition spot. Leaving the brief open for us to work out a creative we've always wanted to do; a live-action shoot featuring a cast of handmade objects and a gang of human controllers with impeccable timing!
Shot in one take (albeit number 38), the creative features a near-seamless flow of cardboard and paper gadgets, which appear in time to the voice-over. All made possible by lots of helping hands, a sliding set, strategically placed magnets, fishing wire and a hair dryer.
Make sure you take a sneaky peek at our 'making of' video in the behind the scenes section too.
Awards:
Silver Award winner for Best Direct Response Promo UK at the Promax Awards 2012
Gold Award for "Best Promo Ever" at the Bass Awards 2013
Produced and directed by Fred & Eric
Design and Direction: Maggie Rogers
Produced by Jamie Pigram at Fred & Eric
Set Operators: Jamie Pigram, Sarah Killeen, Susie Jones, Laura Hopewell, Lee Cooper & Andrew Meredith
Model Makers: Laura Hopewell, Kerry Hughes and Thomas Bird
DOP: Marcus Domleo
Camera Assist / DIT: David Litchfield
Gaffer: Craig Davis
Lighting Hire: Panalux