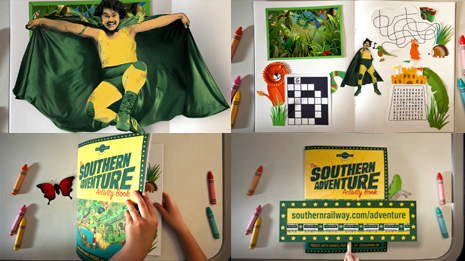 Fred & Eric were commissioned by VCCP to make this fun handmade commercial for their client Southern Railways.
Designed to advertise a free children's activity pack which was given away on the trains. My design includes Southern Train's character Loco Tolido, who I incorporated onto my design concept.
Alongside a top team of paper engineers, we got busy crafting a handmade paper-cut jungle and activity book, which was brought to life using stop-frame animation.
Design and Direction: Maggie Rogers
Produced by Sarah Killeen and Jamie Pigram at Fred & Eric
Andy Martin: After Effects Animation
Susie Jones: Stop-frame Animation
Matthew Day: DOP
Tom Ashton-Booth & Laura Hopewell: Model Makers
Grand Central: SFX
Shot at Clapham Road Studios