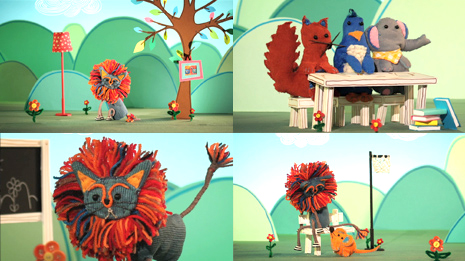 I love making animations for children so when this brief from Playhouse Disney came my way it was a dream job.
The story of Lester the Lion immediately caught my imagination. I quickly spent the evening after reading the story creating his head using my vast collection of left-over fabric and wool. The next day I photographed it and created the rest of his body as well as the background scene in photoshop for the initial style frame. The original plan was to bring Lester and his friends to life in After Effects. However, with the help and encouragement from a brilliant team we decided to get the needles and scissors out and shoot everything in camera.
Taking influence from 70s children's shows like Paddington and the Magic Roundabout we began creating Lester's world. The hand-crafted aspect of the piece was part of its character and integral to the animation's charm. Keen to show the human element behind the animation's creation we wanted to produce something which really retained its handmade essence whilst being friendly and colourful to engage the young audience.
Many wire armatures, piles of fabric, stacks of paper hills and lots of glue later we ended up with this animation which we're all incredibly proud of.
We shot the animation at 12 frames per second over 3 weeks. Luckily the characters suffered no broken legs or other mishaps (and the set endured no clumsy knocks from me either)! Back at the Fold7/Mr & Mrs Smith studio we assembled the edit, cleaned up a few shots, added some hand-drawn clouds and camera moves. Ending up with this 3 minute animation and a lot of new cute characters to add to our shelves.
Festivals:
PLAY 1st Lisbon's International Kids Film Festival, February 2014
8th Annual Rochester Children's Film Festival, April 2013, New York
Tumbleweeds Film Festival for Children and Youth, Utah, March 2013
The Martha's Vineyard Film Festival, June 2012
TIFF Kids International Festival, Toronto, Ontario, 2012
Designed & Directed by: Maggie Rogers
Produced for Disney by Fold7 / Mr & Mrs Smith
Story written by Lisa Akhurst
Producer: Jamie Pigram
Stop-frame Animation & After Effects Post: Susie Jones
Model Makers: Maggie Rogers, Susie Jones & Natasha Craig
Set Construction: Tom Ashton-Booth
Initial Lighting Setup: Andrew Meredith
DOP: Susie Jones
Narraton: Dave Benson Phillips
Sound Design: Playhouse Disney
Shot at the Truman Brewery
Lighting hire: Panalux