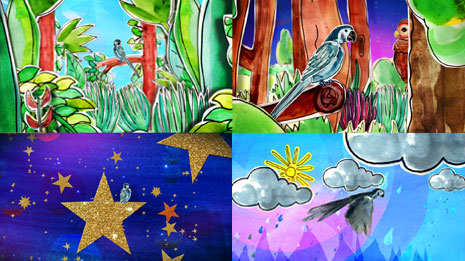 A Journey for Parrot was created for Playhouse Disney.
Having read through the script I felt inspired to move away from the computer (well at least for the early stages of design) and get out my old watercolours and pens to create the illustrations for this story.
I painted each element to make up the different scenes before scanning them all in. Back in photoshop I cutout each one of my little paintings then built up the scenes and characters layer by layer.
Storyboard complete, Mummu took all of my designs adding 3D space and depth of field between the layers. Mummu animated the characters and settings taking inspiration from the 2D cutout theme, creating an animation style which fitted perfectly with the design and narrative.
Designed & Directed by: Maggie Rogers
Produced for Disney by Fold7 / Mr & Mrs Smith
Story written by Tracey Hammett
Producer: Jamie Pigram
Animation: Mummu
Narration: Hugh Denis recorded at Wise Buddah
Sound Design: Candle Music