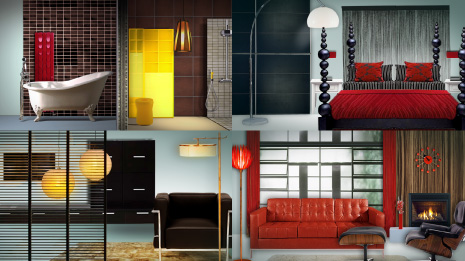 I loved this job. An opportunity to design a range of interiors with an unlimited budget for furniture! Shame it was all created digitally. Even so, this was a really fun job created for interior design show, The Best Possible Taste for BBC2.
The titles were designed to introduce the show with a sophisticated, high-end style using iconic furniture and stylishly constructed settings.
The show had a 'battle of the designers' concept, starring a different couple in each episode. Each couple were tasked with redesigning a room within their home. For this 'design- off' two replicas of the space they were designing for were created in a warehouse. Separately, the couple designed their perfect room within this space with style guidance from interior design gurus Alex and Danielle Proud. The winning creation was based on the best design credentials.
This dual designing concept was illustrated in the title sequence I designed. The camera slides past a separating wall as the interiors change and evolve.
Design & Direction by Maggie Rogers
Production Company: Mr & Mrs Smith
Animation: Tim Johnston
Client: 12 Yard Productions for BBC2