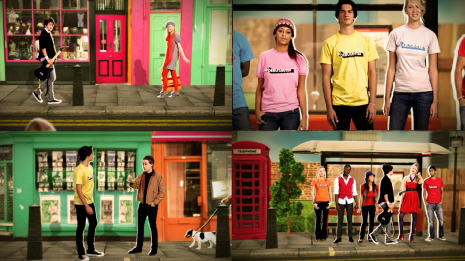 This title sequence was created for T4's series called Debutantes, in conjunction with Transport For London. The idea behind the show was to promote the road Safety message "don't die before you've lived". With the show giving young Debutantes the opportunity to be mentored by iconic industry professionals in their chosen field.
The title sequence follows the main character who is given a second chance to realise his potential. After the 'false start', we follow his journey down a street, passing other debutantes along the way. The surroundings created in After Effects. Whilst the shot footage had frames stripped out to give the animation a stop-frame feel.
The characters were shot in a green screen studio with a green treadmill for the walking shots.
Title Sequence Design & Shoot Direction: Maggie Rogers
Logo Design & Original Concept: Faye Pearson
Produced at Mr & Mrs Smith for T4 & TFL
After Effects Animation: Paul Tuersley
Main Actor: Alex Bhat
Additional Actors: Ned Miles, Faye Pearson, Spencer Murphy, Lee Cooper, Andy, Jerome Bastien, Ziggy Hasan, Kate and Nipper the Dog
DOP: Marcus Domleo
Styling: Fiona Guessous
Make-up: Jodi Farrell
Music: Richard Spiller
Studio: Molinare