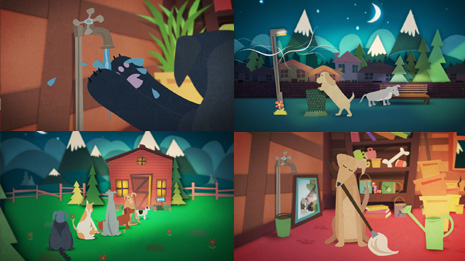 I was immediately inspired by this story after reading the script. Attracted by its collection of funny dog characters as well as the atmospheric night-time setting.
The style was designed to look like felt cut-outs. I created everything in Photoshop using a felt texture and a LOT of layers.
These stills were then brought to life by Ryan who gave the characters loveable personalities. For the backgrounds he separated all of my many layers into 3D space giving the atmospheric settings strong depth of field and parallax.
The animation is full of detail and colour, designed to appeal to the channel's very young audience. I had so much fun creating the visuals especially as all of the 'extra' dogs are based on my own dogs and dogs belonging to my friends.
I also enjoyed creating extra elements of detail. Watch out for the nosy cat and the angry mouse resident of the Dog Cafe.
Festivals:
2012 Cinema Circus, The Martha's Vineyard Film Festival
8th Annual Rochester Children's Film Festival, April 2013, New York
New Zealand Film Festival, July & August 2014
Created & Directed by: Maggie Rogers
Produced for Disney by Fold7 and Mr & Mrs Smith
Story written by Tracey Hammett
Producer: Jamie Pigram
Animation: Ryan Brotherston
Narraton: Dave Benson Phillips
Sound Design: Playhouse Disney