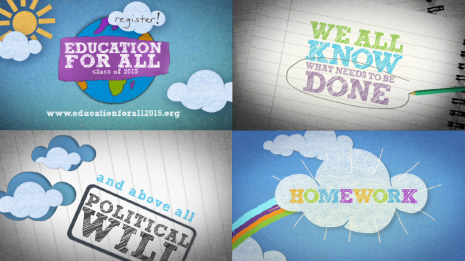 Education For All, for Comic Relief.
This short film was designed to promote the Global Campaign for Education's 'Education for All: Class of 2015' campaign. In collaboration with Comic Relief & Richard Curtis.
The project aimed to actively promote primary school education for all children world-wide through money and political commitment given by the world's richest nations.
The film was produced to create a clear, inspirational design which highlighted the urgency of education for all as well as the positive steps which have been taken so far.
A typographic approach was used to convey this serious message, combined with simple illustration to visually enhance key moments in the script. With the addition of Elbow's uplifting track the animation was given extra emphasis, building to a crescendo and a positive ending.
This short film was shown at the UN special summit as well as on screens in Times Square, New York. The branding created was also used in all the visual backdrops at the summit.
We all found this project incredibly rewarding to work on. I hope to be involved in more charity focused work in the future.
Directed by Maggie Rogers
Design by Ned Miles & Maggie Rogers
Producer: Sarah Killeen
Animation: Lee Cooper, Ryan Brotherston, Justin Blampied, Susie Jones
Editor: Anita Churcher
Track: One Day Like This instrumental by Elbow
Sound Effects: Wise Buddah
Clients: Education For All, Comic Relief, Richard Curtis