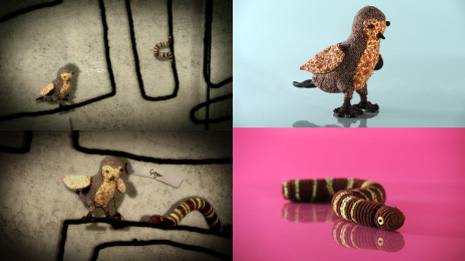 Introducing the bird and wormy caterpillar. This piece was designed as an animating ident for production company, Film Club - co-founded by director Ben Gregor and his writing partner Tim Plester.
Ben and Tim were keen for us to create characters that represented them (but I'm not sure which one is which)! We had to produce this pretty quickly, having only a weekend to create the characters. So when I turned up at Robin's house on a Saturday night with a bag of fabric and cous cous to stuff the caterpillar with, I'd like to say everyone was surprised but they know me too well!
The bird was made from patterned fabric with a simple wire armature. I shaped him by twisting stuffing around the armature and then sculpting the fabric to this shape (basically I don't work from patterns so this is my slightly unique way of working)! The Caterpillar / Worm also has a wire spine and was stuffed with a lot of uncooked cous cous...
We shot the stop-frame animation using a rostrum camera with a green screen at MCP. Andy Martin got a great range of character into their movement. He then composited the shots into their After Effects created world.
The narrative follows the pair inching along an abstract black line, before the camera pulls out to reveal they are walking along one continuous line forming the Film Club logo.
Created & Directed by Maggie Rogers
Produced at Mr & Mrs Smith for Film Club
Stop-Frame and After Effects Animation: Andy Martin