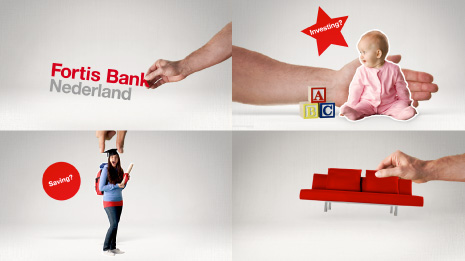 These two commercials were created for Fortis Bank, Amsterdam. I was briefed to create a warm and charming creative to introduce the bank's new products in a friendly way.
The 30 and 10 second spots are both set in a cream, textured environment. Both creatives feature a hand that gently slides, places and moves elements into shot to create one continuous sequence.
We shot all of the characters and props at a stop-frame shoot in front of a green screen. When shooting the hand we used specially designed tracking markers for each different prop to achieve realistic movement when it came to compositing.
Design & Direction by Maggie Rogers
Production Company; Mr & Mrs Smith
Client: Grey Amsterdam for Fortis Bank
Producer: Giles Skillicorn
Shoot Production Manager: Dominika Wosik
Animation: Neil Grunshaw
Stop-frame Animation & DTI Camera Tech: Susie Jones
DOP: Michael Wood
1st AD: Matt Clyde
Gaffer: Dan Thomas
Electrician: Alistair Bury
Art Department: Tom Wales
Hair & Make-up: Louise Hinton
Wardrobe Stylist: Nadya Lubrani
Runner: Ed Holmes
Teenage Daughter: Naomi Scott
Baby: Maisie Prigg
Hand Model: Marc Ellis
Studio: The Studio, Battersea
Camera Equipment: Calumet