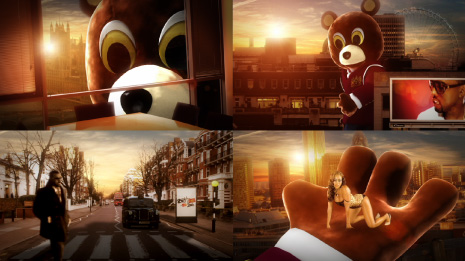 Produced as a UK TV campaign for Kanye West's breakthrough album Late Registration, this was one of the first projects I directed (with help and encouragement from Abby Johnson and Lisa Lloyd).
As soon as I saw Kanye West's trademark bear which featured on the album cover I immediately thought of creating a King Kong pastiche. Combined with Kanye's visit to the UK, alongside his meteoric rise to fame, it all just fell in to place.
For the original storyboard the record label sent over a full-sized bear outfit to assist in creating the pitch. It did the job and won us the job. However, we decided to go with the much slicker (and cooler) 3D bear for the final ad.
Kanye himself loved the ad so much he used a still from the design for his live album, Late Orchestration. The commercial was also nominated for a Music Week CAD award in 2006 for Best Music TV Advertisement.
Designed & Directed by Maggie Rogers
Produced at Mr & Mrs Smith
Producer: Abby Johnson
Creative Director: Lisa Lloyd
Animation and Compositing: Paul Tuersley
Photography: Andrew Meredith
Client: Roc-a-fella