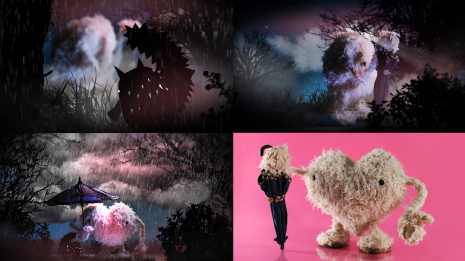 Mr Special was created as a personal project. The story was inspired by the idea of creating a heart-shaped character who glows when he is happy. The addition of his umbrella led to the story's narrative where we see Mr Special turning sad and lonely situations into ones of warmth and hope.
Mr Special is a 30cm high furry model with a wire armature. He has a little pouch in his back for a light so I could animate his glowing body in-camera (slightly dangerous but he made it through the shoot un-singed)!
He was animated at 12 frames per second and shot against a against a green screen with compositing and post in After Effects.
Created & Directed by: Maggie Rogers
Animation: Maggie Rogers
DOP: Andrew Meredith
Sound design by Ed Downham
Soundtrack: Charlotte Anne by Mr Special
Lighting hire: Panalux