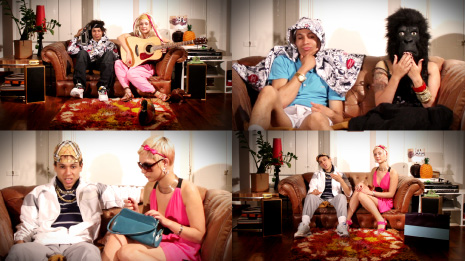 Scene Stealers title sequence was a prime example of the benefits of my hoarding of 'treasures'. Working on a very limited budget, we were able to create this entire sequence using a van load of stuff I brought in to our studio. I knew that plastic pineapple ice bucket would come in handy one day...
The actual show featured two teenagers who competed to convincingly take on a whole new teen tribe identity over the course of a weekend.
Taking advantage of the magic of stop-frame animation, we took inspiration from the show's transformational theme to create the opening sequence. Showing one style morphing into into another reflected the show's concept in a fun way that would appeal to the target audience.
The sequence was shot on twos over 2 days, with the logo animation the only element animated in post. During the shoot our (very patient) models Slinky and Camilla transformed into six different distinctive styles which represented the extreme end of each stereotypical look to be featured on the show. We only had time for one take, so it was a real team effort getting everything right first time.
The first show aired on BBC Switch, BBC 2, Sat 6th September 2008.
Designed & Directed by Maggie Rogers
Produced at Mr & Mrs Smith for Alchemy TV
Stop-frame animation: Susie Jones
After Effects Animation: Dan Kitchener
Lighting & Make-up: Tanith Wilson
Styling: Jamie Pigram
Music: Julian Ronnie
Models: Slinky & Camilla