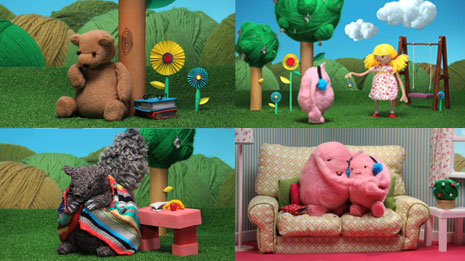 I really fell in love with the Little Cuddle as soon as I read the story. Initially I created a style frame in photoshop to visualise how I wanted the Cuddle and his world to look. The next challenge was recreating this style frame to create real characters and a set for the stop-frame shoot.
The Cuddle's armature was made from wire and then covered with sponge which I sculpted to get his shape right. The next big challenge was to cover the Cuddle so he looked like a big cuddly ball of candyfloss whilst still being solid enough to animate. I experimented with a lot of different materials and finally perfected a technique using pink felting wool, spray glue and a lot of hair spray!
I made the other characters with wire armatures padded out with stuffing or sponge which was then covered in fabric. I hand stitched them all with my usual style of making up the pattern as I go which always seems to work out!
Tasha helped to create the rest of the set using big balls of polystyrene, wool, wood veneer as well as lots of glue and paint. Susie brought the characters to life shooting them at 12 frames per second and giving them all loveable personalities.
Finishing off the stories we had a week of post, fine tuning the edit and tidying up shots. Finished off with lovely sound design from the guys at Candle Music.
Festivals: * PLAY 1st Lisbon's International Kids Film Festival, February 2014 * London International Animation Festival (LIAF 2014)
Designed & Directed by: Maggie Rogers
Produced for Disney by Fold7 / Mr & Mrs Smith
Story written by Matthew Lyons
Producer: Jamie Pigram
Animation: Susie Jones
After Effects Post: Susie Jones & Maggie Rogers
Model Makers: Maggie Rogers, Natasha Craig & Cathie Rogers
Set Construction: Tom Ashton-Booth
DOP: Andrew Meredith
Narration: Hugh Denis recorded at Wise Buddah
Sound Design: Candle Music
Lighting hire: Panalux