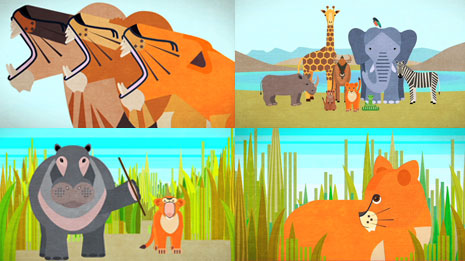 As soon as I read about the loveable Bapoto and his squeaky roar I had a strong idea of the illustration style I wanted to create. My inspiration came from the calm feel of the narrative which I thought complimented a more precise approach to the illustration style.
The designs were all created in Illustrator with a canvas overlay to soften the vector style.
I'm proud to say this animation won 1st Prize, for Best Animated Short Film at the Chicago International Children's Film Festival, 2012.
Festivals:
1st Prize, for Best Animated Short Film at the Chicago International Children's Film Festival, 2012
Cinema St. Louis Childrens Film Festival, August 2014
24th Inside Out Toronto LGBT Film Festival, May 22 - June 1, 2014
Boston International Children's Film Festival, April 2013
8th Annual Rochester Children's Film Festival, April 2013, New York
New York International Film Festival, March 2013
Tumbleweeds Film Festival for Children & Youth, Utah, March 2013
London Barbican Centre's Framed Film Festival, UK February 2013
newportFILM 2013 Winterfest, February 2013
Byron Bay International Children's Film Festival, January 2013
5th Annual International Children's Film Festival, California, January 2013
The Martha's Vineyard Film Festival, June 2012
TIFF Kids International Festival, Toronto, Ontario, 2012
Designed & Directed by: Maggie Rogers
Produced for Disney by Fold7 / Mr & Mrs Smith
Story written by Louise Kramskoy
Producer: Jamie Pigram
Animation: Jonathan Harris
Narration: Hugh Denis recorded at Wise Buddah
Sound Design: Candle Music