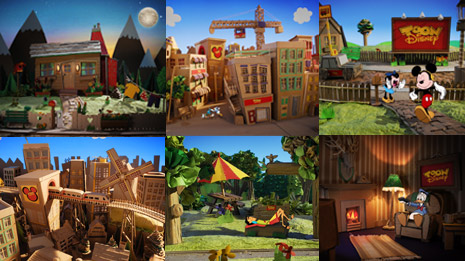 This epic project was produced for the Toon Disney Channel in Scandinavia. They asked us to create a series of 10 idents for the channel which would appeal to their young audience.
Our brief was focused on the popularity of craft activities amongst Scandinavian children. So with that in mind we came up with the idea of creating a 'Toon City' to house the characters who appear on the channel, constructed entirely from paper, cardboard, wood and a little bit of stitched detailing.
With the style set the first task was to create 10 different stories using footage of characters featured in the channel's cartoons. These scenarios were put together by sifting through HOURS of cartoons (hard job). Then shortlisting the moments which could be easily rotoscoped and combined to create new narratives. Many hours later, Anita and I combined this huge collection of clips to create narratives for the 10 different stories.
Based on these edits we created cardboard settings for the rotoscoped characters to be composited into. Bringing together animated characters who would normally never meet, taking them out of their familiar settings and bringing them to a common world.
We quickly outgrew our little studio, so moved to Clapham Road Studios in time to finish building the sets for the first two stories. Due to the tight schedule we shot on two different sets simultaneously with the build continuing as we shot. Footage was sent back to the studio where compositing began.
Stop-Frame-Sooz brought elements in the cardboard sets to life. They weren't the most solid material to work with but she has a very steady hand! A couple of motion control shots added to the high production values of the animations. Combined with beautiful lighting and photography from Matt and Christophe, we ended up with this lovely piece of work - if I do say so myself!
Designed & Directed by Maggie Rogers
Production Company: Mr & Mrs Smith
Producer: Samantha Plaisted
Producer (Birthday Ident): Sarah Killeen
Assistant Producers: Jamie Pigram & Tanith Wilson
Production Co-ordinator: Abi Klimaszewska
DOP & Lighting: Matthew Day
Assistant DOP & Lighting: Christophe Leignel
Compositing & Animation: Paul Tuersley & Neil Grunshaw
Stop-frame Animation: Susie Jones
Editor: Anita Churcher
Art Department: Beca Edwards, Susie Jones, Helen Foers, Emma Goodley, Natasha Craig, Rosie Coutts & Verity Rose
Music Composer: Aaron Lampert
Sound Effects: Wise Buddah
Shot at Clapham Road Studios